Topeka Transmission Shop

Automotive Repair & Service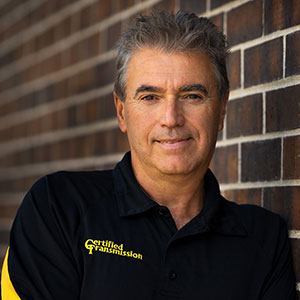 Certified Transmission is a family-owned and independently operated transmission shop in Topeka that was founded in 1979 by Peter Fink. With 14 company-owned retail shops in Iowa, Nebraska, Kansas, and Missouri, and distributors serving transmission shops from coast to coast, Certified Transmission is recognized by many as the best place in Topeka for remanufactured auto transmissions. Each transmission shop owned by Certified Transmission specializes in the repair, service, and diagnosis troubleshooting of manual and automatic transmissions, domestic or foreign, both old and new. In addition to repairing and servicing transmissions, our expertise includes electronically controlled systems, clutches, drivetrain components, differentials, and various four-wheel drives.
The goal of the team at our Topeka transmission shop is to provide our customers with the most ethical, honest, and professional service in an effort to accurately troubleshoot, diagnose, and repair their transmissions, all with our company slogan "The Job Done Right at the Right Price" in mind. Certified Transmission employs technicians and specialists that have exceptional training and expertise and take pride in each and every transmission they repaired or serviced at our shop. It is our belief that our customers both expect and deserve professional and personalized treatment. Additionally, when completed with a repair or service, our team of technicians want customers that are happy and leave knowing if they every have a transmission problem again, our transmission shop in Topeka will be the first place that comes to mind.
TESTIMONIALS
I would highly recommend this transmission shop in Topeka to anyone in need of a service or repair.
Monte Smith
Reeds Spring MO
I have also had them service my transmission in the truck and will continue to take my vehicles to this transmission shop.
Very reasonably priced and would recommend them to anyone.
Jeff worked together with the another auto shop in Topeka, arranging it so that Certified did our work but it was paid through the financing plan we already have. Now we simply have to pay our financing, and we have our car back.
If a transmission ever went out in a vehicle we owned again, we would take it to Certified.
I could not ask for better service. They were so fast and prompt and kept in touch with me every step of the way.
Nellie Brockhoff
Fairview KS
The repair shop he recommended was very professional, as well.
Extremely satisfied with the overall professional service Certified Transmission extended to me.
It's nice to know that there are salesmen still out there that truly care about people and take a few minutes out of their day to lend a hand when they really didn't have to. Thanks Certified Transmission! Five stars.
Ernest Prescott
Burlingame KS
I will not be going anywhere else in the future. Fast, courteous, and done correctly.